Assalamualikum,
We are pleased to announce that after making some changes to the website, you can now access daily salaat timetable on your desktop on Windows 7 and Vista.

Instructions:
Download minibrowser gadget from http://www.minibrowser.info/
Install the gadget.
A small window will appear on the desktop. You may have to click on "show desktop" or minimize all other windows to see the small window.
In the address bar, type the following URL: http://www.swindonmasjid.com/wp-content/uploads/st.php
Once the page is loaded, press Alt+S on the keyboard or press the 4th button from the right hand side on the little menu bar.
Click on settings and keep them as following: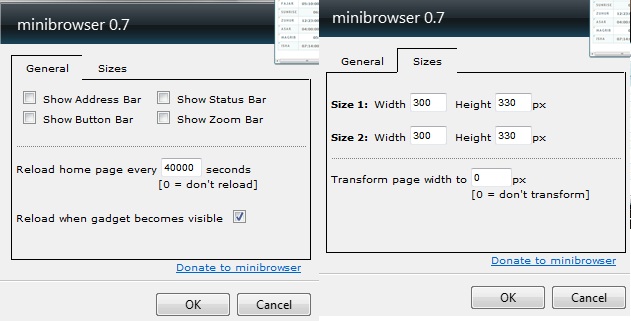 Click "Ok" and inshAllah the prayer timings will be available on your desktop.
For more information, or if you are finding it difficult to install it, please use the comments for your query.
JazakAllah